Carolyn Newton
Senior Employment Specialist with Goldman & Associates Inc.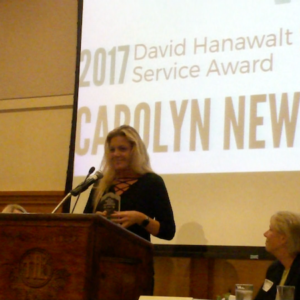 On October 17th, 2017, Carolyn Newton won the David Hanawalt Service Award at the 17th Annual Employment For All – Inclusion Drives Innovation Celebration in Vancouver, Washington.  The annual event is a celebration of National Disability Employment Awareness Month and reflects the important role disability plays in workforce diversity.  The David Hanawalt Service Award honors an Employment Specialist that has gone above and beyond expectations to ensure the success of the employees and employers they work with.
"Carolyn is an example of any manager's go-to person. Not only does she enjoy being a job coach, but her success in keeping people on their jobs, increasing duties, and working more hours shows that Carolyn understands what her responsibilities are. I often tease her as being one of the easiest employees I've ever had, but it's not only teasing—it's true."
-Norm Goldman, Director of Goldman & Associates
The award is chosen and presented by the Clark County Developmental Disabilities Advisory Board, in collaboration with the Greater Vancouver Chamber of Commerce and New Seasons Market.
The Goldman & Associates team is incredibly proud of the work and commitment Carolyn has made in improving the lives of those she has touched, and in strengthening the community by providing innovative approaches to inclusive employment.
To see the award presentation from CVTV, click here or watch the video below;